$1,860 Raised on Giving Tuesday / December 30th Holiday Party / 2022 Recap / Reading Recommendations
Regenerative School Community,
THANK YOU SO MUCH for raising $1,860 this Tuesday in support of our expanding curriculum, online library and in-person programming. We are so HUMBLED and GRATEFUL for your generous support of our growth and cannot wait for what this coming year has in store for us all.
The winter giving season has officially begun and it has us reflecting on all we have accomplished this year with your help and contributions. Keep reading below for our 2022 Year in Review and reading recommendations
SAVE THE DATE: We plan to gather on Friday, December 30th in the New Hampshire / Massachusetts Seacoast area to celebrate a new chapter and honor our new Northeast community.
Stay tuned for more details, we hope you will join us!
---
Rē: The Regenerative School is a transformative non-profit that works through education, research and civic engagement activities to foster regenerative processes which add to the abundance and resilience of ecological, social and economic communities.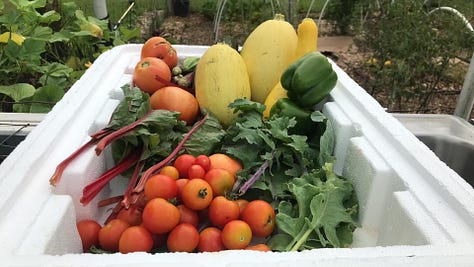 GARDENS / PRODUCE DONATIONS: Our Fayetteville, TN LOVE and PEACE gardens produced 313 lbs between May 24 and October 4, 2022. We partnered with Henry's Family Farm (@henrysfamilyfarm), a Jamaican, veteran-owned and operated family farm who donated an additional 220 pounds. This combination was delivered twice per week to the local food bank, Hands of Mercy, to ensure that the food we grew was distributed widely to those facing food insecurity in our local community. That's 533 donated pounds of fresh food to local families in need.
SPEAKING: In April, Co-Founders Ashlei Laing and Dr. Felix Bivens spoke about Rē's work at the University of the South to a class addressing climate grief.
TEDx: While the Regenerative School TEDx talk is still not available on the TED website, Rē's presentation was spotlighted on the front page of the Tullahoma News following our talk.
LIBRARY AND ONLINE CLASSES: Rē launched an online library to house and expand our virtual course offerings and ever-growing curriculum. This holiday season we have a beautifully rich three-part course offerings titled "ReMembering the Origins of Climate Change" taught by theologian and researcher Sara Jolena Walcott of Sequoia Samanvaya. The course traces the roots of climate change back 500 years to its roots in colonialism and racism.In February 2023, Rē will launch a new course with Maya Galimidi of Empower with Nature on "Ecological Consciousness." We hosted two sessions of "Nature and Belonging" this year and are hoping to run the successful course again in the spring. The United States of Peace (USIP) is also developing an online course on participatory action research that we are eager to share!


RETREATS: We hosted two in-person retreats that helped connect individuals to themselves and the earth through trauma-informed yoga, nature immersion and Ayurveda. Thana Numan, an Ayurvedic wellness counselor and therapeutic yoga instructor of Nourish Me Wellness, and Caitlin Smith, owner and founder of Within Wellness, co-led these incredible weekends with the Regenerative School at our beautiful property in Fayetteville. We are so excited for new North East based retreats in 2023 that explore the inner landscape and the somatic embodiment of Rē's work.

We currently have a Seasonal Retreat Offering (Pay from the Heart, donation based) available on our website and library for those interested in rēcharging and rēbalancing the mind, body, and spirit, as the days continue to grow shorter and colder. The offering includes a yoga practice, meditation, Kitchari recipe, and more! Consider our invitation and check it out here!

SUMMER INTERN: For two months, Anthony DiPreta joined our team as our summer intern! He helped research related social justice work as well as maintain our gardens. He also put together this incredible resource on reproductive justice and abortion support in Tenessee.


2nd MICRO FOOD PANTRY: The small dry goods pantry at the LOVE Garden receives almost daily visitors, so we added a second to our Fayetteville community, located behind the Mount Zion Missionary Baptist Church. We look forward to installing more micro food pantries in the New Hampshire / Massachusetts Seacoast area.
ONLINE EVENTS: In June, the Regenerative School organized an online event entitled "Navigating Life After Roe in Tennessee" to offer important information to the community and inspire action following the Dobbs decision. A recording of that grounding evening together can be found here. We hope to facilitate more in-person and virtual community spaces like this in the coming year.
NEW GLOBAL SITE AND PARTNER: In July, Director Ashlei Laing traveled to Puerto Rico for a site visit for a new international educational tour. In 2023, Rē hopes to host a "Decolonization Tour" in Puerto Rico with our new friends at ISER Caribe. Watch this space for more.
RELOCATION: After five beautiful years in Tennessee, we are moving our headquarters to the New Hampshire / Massachusetts Seacoast area. Our new office is located at 47 Main Street, Amesbusy, MA. We left a beautiful trace in Fayetteville, TN and are looking forward to starting a new legacy in the Northeast.Rē recently hosted an activities table at the Newburyport, MA Annual Indigenous Peoples Day Celebration on the banks of the Merrimack River to honor our region's indigenous nations, including Abanaki, Pennacook, Wabanaki, Mi'kmaq and all Native Peoples, past and present. We made many new connections to the incredible social, racial and environmental work and practitioners within in our new Northeastern community.

2023, we are so excited for what's to take root!
---
Chris Mooney, Zoeann Murphy and Simon Ducroquet explored an island community retreat to the mainland in this awesome interactive feature from The Washington Post.
Abrahm Lustgarten's epic NYT piece on Barbados and Motley's debt-restructuring is a must read on understanding the debt-colonization-climate nexus.
Naveena Sadasivam's recap of COP27 and "loss and damage" funding for Grist. We also enjoyed policy advisor Ayana Elizabeth Johnson's plea for corporate action following COP27 published by Atmos.
What have you been reading? What have you been listening to? Write to us at admin@regenerativeschool.org and let us know.
Thank you and see you soon!
The Rē Team